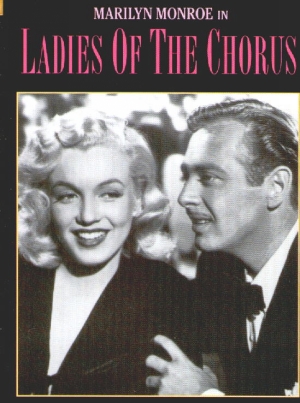 Ladies of the Chorus
: le titre est connu pour être la première apparition conservée de Marilyn Monroe dans un film, pour la Columbia. Je pensais qu'elle ne faisait qu'une ou deux apparitions (pour chanter "Anyone can See I Love You" et "Every Baby needs a Daddy") mais en fait, elle a le premier rôle !
Le film dure seulement 58 minutes. Le scénario tiendrait sur un ticket de bus : une danseuse de revue essaye de dissuader sa fille (Marilyn), qui danse sur scène avec elle, d'épouser un riche admirateur qui ne fait pas vraiment partie du même monde. Tout se termine très bien évidemment avec l'aide d'une sorte de bonne fée.
Marilyn est dans pratiquement toutes les scènes du film et c'est vraiment émouvant de la voir commencer sa carrière à 22 ans devant les caméras : elle n'a pas encore son look des Hommes Préfèrent les Blondes mais ressemble plus aux photos des magazines du temps où elle était modèle. En tous cas, elle irradie littéralement. Côté jeu, elle s'en sort plutôt bien, dans ses scènes parlées et chantées. La danse laisse un peu à désirer, mais bon... Parfois, la future Marilyn apparaît dans une expression, un mouvement ou une intonation.
Quelques scènes sont vraiment drôles (notamment, un gag autour de la voix d'un décorateur d'intérieur). La fin est très sympa. Ladies of the Chorus a de toute évidence été fait pour "lancer" la starlette Marilyn : ça n'a pas dû être concluant. Après ce film, Marilyn a été remerciée par la Columbia, et a fait deux ou trois apparitions remarquées pour d'autres studios (All about Eve, The Asphalt Jungle) avant sa percée définitive à la Fox en 1953. Le film ressortira alors avec le nom de Monroe au-dessus du titre (c'est ce carton-titre qui est d'ailleurs présenté sur le DVD).
Un petit film de série, léger et sans prétention mais très bien réalisé et qui est en fin de compte une excellente surprise. Les fans de Marilyn ne devraient pas s'en priver.